Published on April 16th, 2012 | by Indy
Make Your Own Origami Bookmark!
Do you spend more time hunting for your place than you do reading? You need an origami bookmark.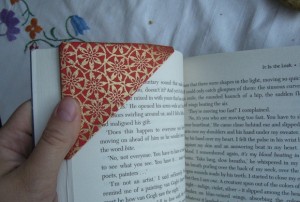 This cleverly designed bookmark rests on the corner of your page so it won't fall out like something slipped between the pages can.
Origami bookmarks are easy to make.  All you need is a square piece of paper.  Japanese paper stores often have [amazon_link id="B005IQH4YQ" target="_blank" ]beautiful paper[/amazon_link] made especially for origami, but any square will do.
The video above shows you what to do.
It also teaches you how to make a waterbomb base and design your own bookmark from there.
There are lots more cool things you can make by folding paper.  We love making [amazon_link id="0870409786″ target="_blank" ]little paper boxes[/amazon_link].  For more cool ideas, check out FoldSomething where there are quite a lot of origami videos.