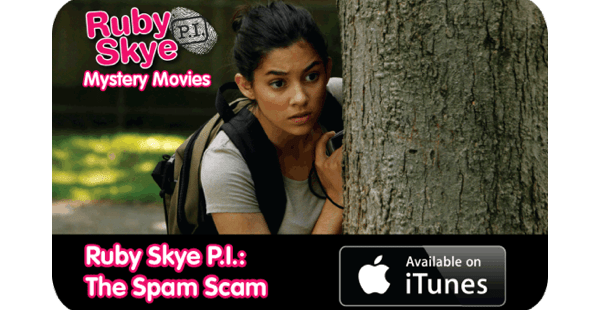 Watch the Ruby Skye P.I. Movies!
The Maltese Puppy
Teen detective Ruby Skye finds herself in the middle of not one, but three mysteries! Who stole the fabulous furry Flobbles from FONK, the local children's charity? Who owns the adorable white puppy that her sister, Hailey, wants to keep? Who is that little kid and why does she keep following Ruby? In her quest for justice (and answers), Ruby accidentally destroys a crime scene and annoys a detective. Her list of enemies is growing by the minute and includes her little sister, her maybe boyfriend, the victim of the crime and every one of the suspects. At least the puppy still licks likes her….  Can Ruby find the bad guys, make her sister happy and win back all her friends? Watch The Maltese Puppy to find out.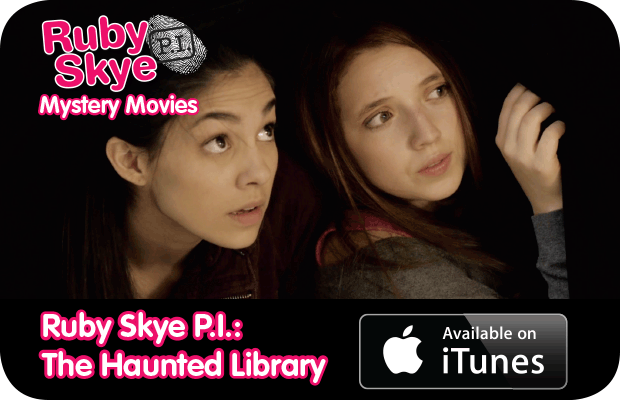 The Haunted Library
Is a ghost haunting the spooky old O'Deary Library? Teen detective Ruby Skye can't believe it. But how else do you explain the creepy shadows, the late-night noises, and the flying books!? As Ruby starts her investigation, a second mystery drops into her lap. Ava O'Deary – the owner of the library – dies and her Last Will and Testament is missing. Before you say "long lost relative", O'Deary descendants descend with plans to squander Ava's fortune, burn the books and turn the historic library into condos. Ruby can't let that happen. Ruby soon finds herself in a battle of wits with a ghost and a race against time to find Ava's will and save the library. Ruby's most spine-tingling, heart-stopping, laugh-snorting case involves a mysterious stranger, messages from beyond the grave and some of the most beloved children's books of all time.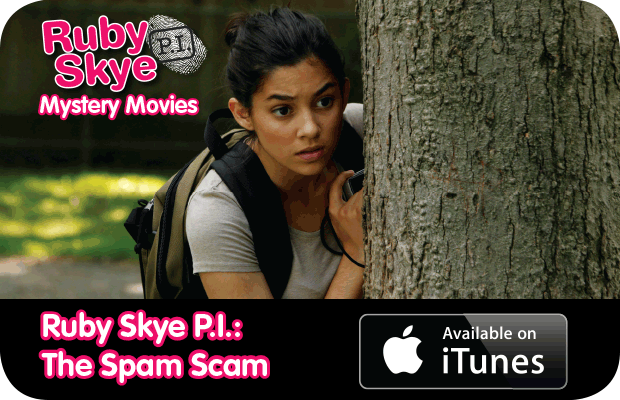 The Spam Scam
Ruby Skye asks a lot of questions. Why is her best friend Griffin lying? Why does the new school janitor have such clean fingernails? And why is her happy-go-lucky neighbor so depressed? Ruby's snooping leads to a startling discovery: her neighbor has lost all of her money to an email scam. Ruby vows to find the thief and get the money back. When she traces the scam email back to her school's computers, things get personal. Is the scammer someone she knows? And could that someone be her lying best friend with the brand new big screen TV? Ruby can't stop herself. She has to solve the mystery, even it means losing everyone she loves along the way. Funny, smart with lots of twists and turns, Ruby Skye P.I.: The Spam Scam will keep you on the edge of your seat… if you don't fall off of it, laughing.