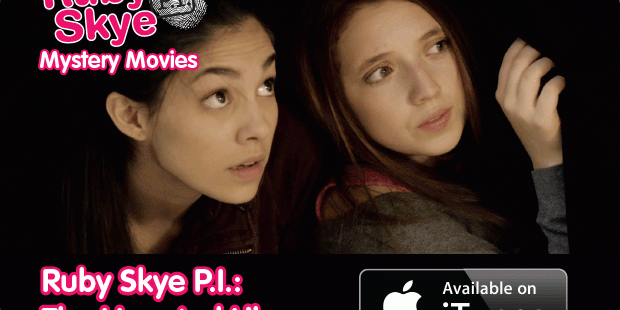 Season Two
Watch The Haunted Library on iTunes!
Is a ghost haunting the spooky old O'Deary Library? Teen detective Ruby Skye can't believe it. But how else do you explain the creepy shadows, the late-night noises, and the flying books!? As Ruby starts her investigation, a second mystery drops into her lap. Ava O'Deary – the owner of the library – dies and her Last Will and Testament is missing. Before you say "long lost relative", O'Deary descendants descend with plans to squander Ava's fortune, burn the books and turn the historic library into condos. Ruby can't let that happen. Ruby soon finds herself in a battle of wits with a ghost and a race against time to find Ava's will and save the library. Ruby's most spine-tingling, heart-stopping, laugh-snorting case involves a mysterious stranger, messages from beyond the grave and some of the most beloved children's books of all time. Watch The Haunted Library on iTunes.
Here it is: The Trailer for The Haunted Library!
In the trailer, you will see the beautiful, but spooky O'Deary Library played by University of Toronto's Emmanuel Library.  You'll also catch your first glimpse of some of the fabulous characters in the new season.  Look out for:
Edmund (Scott Beaudin)
Gifted Sarah (Geri Hall)
Henry O'Henry (Jordan Prentice)
Lillian O'Shyte (Laura de Carteret)
Ophelia Bedelia (Samantha Wan)
and library owner, Ava O'Deary (Rosemary Dunsmore)

You'll also see Ruby's put-upon sister,
Hailey
(Marlee Maslove) and her nemesis,
Diana Noughton
(Elena Gorgevska).
And of course,
Ruby Skye
herself, played by Madison Cheeatow, is up to her usual tricks, watching people's every move, sticking her nose into everything and getting the people around her into all kinds of hot water.
This all new Ruby Skye P.I. mystery features a seance and a series of clues that lead to some of the best loved children's and young adult books of all time.  There are puzzle clues that you can solve along with Ruby.  You'll find these on our site after Ruby finds them in the episodes.