The Maltese Puppy Episodes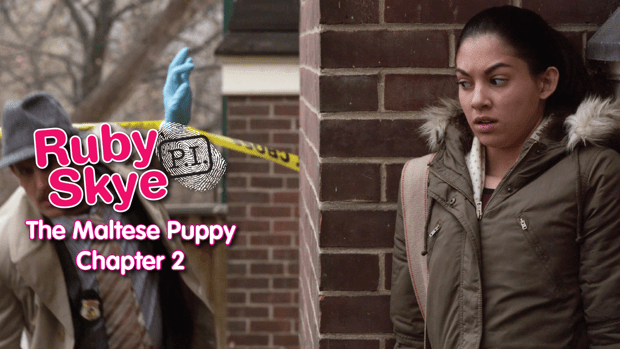 Published on July 11th, 2014 | by Jill
0
The Maltese Puppy – Episode 2
The Maltese Puppy – Episode 2 is called…
Flobbery
In The Maltese Puppy – Episode 2 Ruby begins her investigation.
After giving Detective Von Schlagen the slip Ruby revs up her investigation of the break-in at FONK.  While scoping the crime scene Ruby stumbles across FONK's founder Colin Cumberbund. Distraught over the robbery Colin reveals to (the highly caffeinated) Reeny Mussolini that the thieves didn't steal just any old thing – they ran off with all of the Flobbles. Flobbles are not only the season's most sought-after toy, they are fabulous, furry and very cute!
After completing an initial search of the grounds Ruby heads home where she spars with Hailey about their four-legged, unidentified houseguest who Hailey has named Pixel.
All that, and Ruby discovers her first major clue.  The Maltese Puppy – Episode 2 is action-packed and very funny.
Like the first two seasons of Ruby Skye P.I., The Maltese Puppy stars Madison Cheeatow.  The Maltese Puppy – Episode 2 (and all the other episodes of the season) was written by Julie Strassmand and Jill Golick and directed by Kelly Harms.
Little known fact:
Marlee Maslove (Hailey Skye) invented the word "Flobbery" which became the title for The Maltese Puppy – Episode 2.
Teen detective Ruby Skye finds herself in the middle of not one, but three mysteries! Who stole the fabulous furry Flobbles from FONK, the local children's charity? Who owns the adorable white puppy that her sister, Hailey, wants to keep? Who is that little kid and why does she keep following Ruby? In her quest for justice (and answers), Ruby accidentally destroys a crime scene and annoys a detective. Her list of enemies is growing by the minute and includes her little sister, her maybe boyfriend, the victim of the crime and every one of the suspects. At least the puppy still licks likes her….  Can Ruby find the bad guys, make her sister happy and win back all her friends? Watch The Maltese Puppy to find out.