The Maltese Puppy Episodes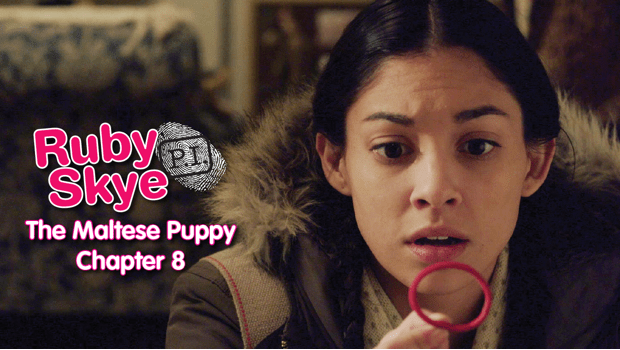 Published on July 5th, 2014 | by Jill
0
The Maltese Puppy – Episode 8
The Maltese Puppy – Episode 8 is called Mean Girl
Mean Girl
Suddenly, the hunt for the Flobble thief is looking very complicated. Ruby has already eliminated all her suspects and is no closer to finding the Flobbles.
There's also the little matter of Diana and her diary. Having read it, Ruby knows that Diana is being tormented by a mean girl. She just doesn't know who that mean girl is.
And then Ruby gets an odd message from Hailey which leads Ruby to believe that Hailey is in serious danger!
Like the first two seasons of Ruby Skye P.I., The Maltese Puppy stars Madison Cheeatow. The Maltese Puppy – Episode 8 (and all the other episodes of the season) was written by Julie Strassman and Jill Golick and directed by Kelly Harms.
Teen detective Ruby Skye finds herself in the middle of not one, but three mysteries! Who stole the fabulous furry Flobbles from FONK, the local children's charity? Who owns the adorable white puppy that her sister, Hailey, wants to keep? Who is that little kid and why does she keep following Ruby? In her quest for justice (and answers), Ruby accidentally destroys a crime scene and annoys a detective. Her list of enemies is growing by the minute and includes her little sister, her maybe boyfriend, the victim of the crime and every one of the suspects. At least the puppy still licks likes her….  Can Ruby find the bad guys, make her sister happy and win back all her friends? Watch The Maltese Puppy to find out.