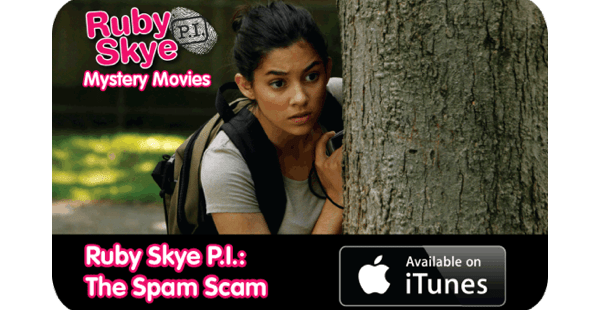 Season One
Watch The Spam Scam on iTunes!

Fifteen year old Ruby Skye asks a lot of questions. Why is her best friend Griffin lying? Why does the new school janitor have such clean fingernails? And why is her happy-go-lucky neighbor so depressed?
Ruby's snooping leads to a startling discovery: her neighbor has lost all of her money to an email scam. Ruby vows to find the thief and get the money back.
When she traces the scam email back to her school's computers, things get personal. Is the scammer someone she knows? And could that someone be her lying best friend with the brand new big screen TV?
Ruby can't stop herself. She has to solve the mystery, even it means losing everyone she loves along the way.
Funny, smart with lots of twists and turns, Ruby Skye P.I.: The Spam Scam will keep you on the edge of your seat… if you don't fall off of it, laughing.
Watch The Spam Scam on iTunes!
Watch the trailer below for Season 1 of Ruby Skye P.I. Follow the comedy web series adventures of teen detective Ruby Skye (Madison Cheeatow) as she solves the mystery of The Spam Scam.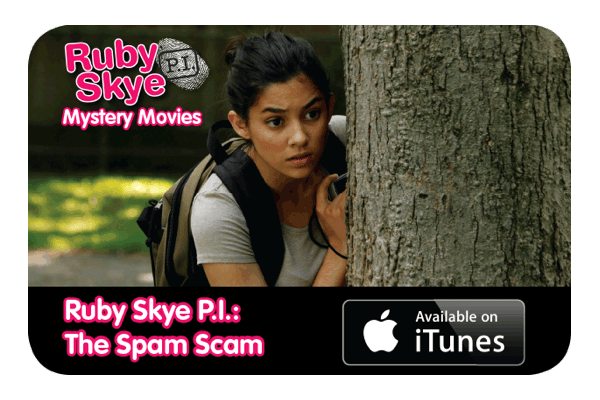 Ruby Skye's little sister, Hailey Skye (Marlee Maslove), has a thing or two to say about Ruby… and none of it's any good.
Hailey is mad because she's been accused of stealing the delicious Roasted Marshmallow Brownies that Ruby baked.
Those brownies are delicious. Want to try baking them? Ruby's recipe is right here.