The Maltese Puppy Episodes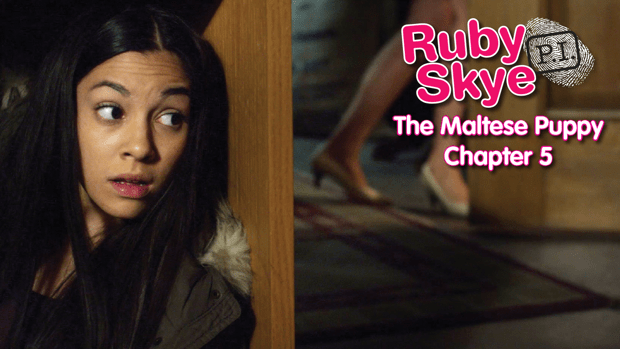 Published on July 8th, 2014 | by Jill
0
The Maltese Puppy – Episode 5
Episode 5: The Key Element
The Maltese Puppy – Episode 5 is called The Key Element.
Hailey tells Ruby that she checked with the vet and Pixel does not have a microchip with her owner's information on it.  She also checked with the Humane Society and no one is looking for the pup.  Ruby continues to post "Found Dog" signs in the hopes of finding Pixel's owners.
Meanwhile, her investigation of the FONK break-in, leads her to Zoffi who is a part-time employee at FONK.  Zoffi refuses to tell her his alibi, although he does mention that Edmund thinks very highly of Ruby.  But will he still like her when she adds his friend Zoffi to her list of suspects?
Using devious means, Ruby gets into FONK late at night intending to search Reeny Mussolini's office.  Along the way, she discovers Diana's diary.  You don't think she's just going to walk by and leave it there do you?  Nope.  And lucky she didn't. Reeny Mussolini returns to her office unexpectedly and Ruby finds herself hiding under a desk with nothing to read except… Diana's diary.  Oh, Ruby!
Like the first two seasons of Ruby Skye P.I., The Maltese Puppy stars Madison Cheeatow. The Maltese Puppy – Episode 5 (and all the other episodes of the season) was written by Julie Strassman and Jill Golick and directed by Kelly Harms.
Teen detective Ruby Skye finds herself in the middle of not one, but three mysteries! Who stole the fabulous furry Flobbles from FONK, the local children's charity? Who owns the adorable white puppy that her sister, Hailey, wants to keep? Who is that little kid and why does she keep following Ruby? In her quest for justice (and answers), Ruby accidentally destroys a crime scene and annoys a detective. Her list of enemies is growing by the minute and includes her little sister, her maybe boyfriend, the victim of the crime and every one of the suspects. At least the puppy still licks likes her….  Can Ruby find the bad guys, make her sister happy and win back all her friends? Watch The Maltese Puppy to find out.