Blog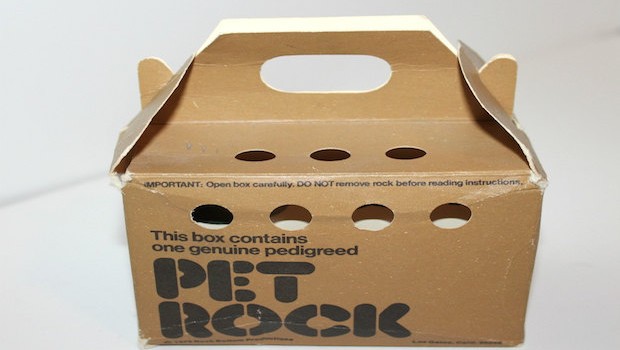 Published on August 20th, 2014 | by David
0
The True Story of The Pet Rock
Next time your confused uncle asks you "What's a Pixar?" or "Why do you Pokeyman?" or maybe "How Flobble are you?" Just remember that he was young once too. He had his own trends and fads growing up.
No matter how silly his questions may be remember that even though he might be right that you wasted the last three hours playing Angry Birds on your phone, he once owned a Pet Rock.
Now you might have heard about Pet Rocks before. If you haven't check this out: It's a rock and it's a pet. That's all. It's a rock that you can take care of… if you want to. You don't have to. It's just a rock, it's not going to get sick or anything. Your fictional uncle paid $3.95 (more then $15 in today's money) for a real Pet Rock. Okay, now that we're all on the same page, let's learn everything there is to know about the Pet Rock.
An advertising executive named Gary Dahl created the Pet Rock. He was listening to his friend complain about how much work dogs are and dreamt up the perfect pet, a rock. I would have dreamt up a dragon that speaks Pig Latin but you know, whatevs. At first having a rock for a pet was just a joke, but one day it clicked in his head that it was a million dollar idea.
He wrote up a guide called The Care and Training of Your Pet Rock. It's pretty funny, if you can find it.
Gary Dahl bought the rocks for one penny each and worked out a deal to get the first run of the booklets printed free. His only real cost was making the boxes. As you can see he designed them to look like animal carriers. When they hit the market in 1975 the trend swept the world thanks in part to an article in NewsWeek.
The trend had faded away in six months, but Gary Dahl had already made millions. His next attempt was a Sand Breeding Kit which didn't catch on. After that it was Red China Dirt, the 'plan' was to "smuggle mainland China into the United States, one cubic centimeter at a time." That fell flat too.
The Pet Rock is back on the market, and your fictional uncle has already bought three.