Blog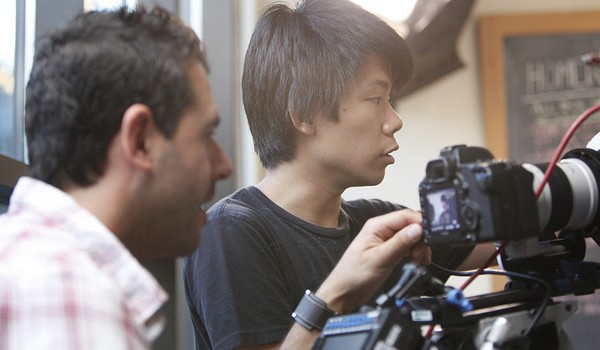 Published on August 31st, 2010 | by rubyskyepi
2
Diary of a Director: Lights, Camera, Confusion
Let me preface this entry by explaining how lucky Ruby Skye P.I. is with an amazing camera, lighting and grip crew!  They are spectacularly talented at their respective jobs and I often watch them in awe – Alex D. (DOP), Alex L. (1st Assistant Camera), Jack (2nd AC), Igor (Gaffer) and TJ (Key Grip) are a literal dream team of technicians and artists.  Alex Dacev and I have worked together on many productions and he's, truly, an extraordinary talent.
The tools of my trade are very few.  I imagine what the scene looks like, draw storyboards (pictures) of where the characters should be and, finally, do a shot list with a simple diagram of the location and camera positions.  It's then Alex's job, with his crew, to make it look very beautiful (or, at least, how I imagined it to be) and to capture those images while I focus on the performance of actors.  Usually, the director hands over the shot list at the beginning of the day so the DOP knows what is to be shot.  With Alex, I often skip that step because I believe he can read my mind – and he's proved my theory correct many times before.
So imagine my surprise, confusion and disappointment when Alex approached me and said that he couldn't make a certain shot happen.  He insisted that it was
impossible (I'd never heard the words out of his mouth!), claiming that I'd miscalculated.  Miscalculated?  I scoffed at the mere suggestion.  When I came to set, I consulted my shot list and realized that I'd miscalculated.  Massively.  I 'imagined' the camera miraculously moving through a very large, concrete beam.
My producer (and 1st Assistant Director), Kerry Young, reminds me often that just because it's in my head (and possibly on paper) that it might be intelligent to 'share' that vision before hand.
I now hand my shot list over to Alex every morning.  Still, I wonder why he, and his miracle-making crew, couldn't make the beam disappear.
Kelly