Awesome Kids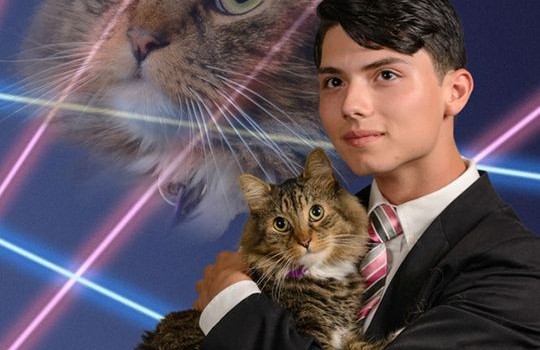 Published on September 12th, 2014 | by Mike
0
That's So Draven: Teen Makes Yearbook Photo Viral
"Look at my hair!" "Look at those clothes!"
When you graduate high school you will look back on your memories, reminisce with friends, and flip through that old yearbook. When you come upon your senior picture you might be embarrassed by how times have changed, or perhaps do what Schenectady NY teen Draven Rodriguez did and make it exemplify Who You Are!
Draven posed with his cat, Mr. Bigglesworth, amid a field of lasers (an obvious homage to an internet meme from years back) and lodged what he called "a pre-emptive strike" to hopefully get his apprehensive school officials to approve the photo as his yearbook's senior picture. He aimed for 500 signatures on his petition, but as of this writing has received over 3,300 and coverage in Huffington Post, Time, and global newspapers and internet blogs.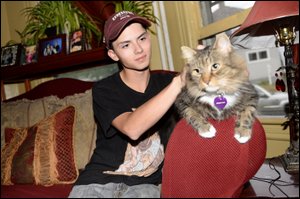 "It's mostly for fun," Rodriguez explained to Albany NY's news station WRGB. "I…want to be remembered for who I was, a very vibrant, very intense personality…I try to be very witty and I thought it would almost be a good statement, like, 'Yeah, only Draven would really do that.'"
We had the fortunate luck to invite Draven on a visit to schools with the DON'T WAIT® to UnMake A Bully program. He is a focused, succinct voice of the antibullying message. He shared his hard times with the elementary schoolers, who listened with rapt attention. He gave them his interested ear as they told their stories back to him. He aims to visit schools himself and talk about how serious bullying can be. The kind of stand-out appeal he's demonstrating with this recent picture is inspiring to anyone struggling to express that same trueness to their own expression of character.
"I don't want to go in the yearbook with the generic 'I-look-like-everyone-else' photo," he said to the Schenectady Gazette. "I wanted a 'He looks great. Only he would try that' photo."
Mr. Bigglesworth in a field of lasers on the senior picture page is perhaps an "Only Draven" moment–but let's hope it inspires others to be creative and expressive at the end of their often difficult and trying high school careers. Here's to Draven leading the pack on how to stand out and be yourself.