Blog Published on September 12th, 2011 | by JulieG
0
Parents Choice Award!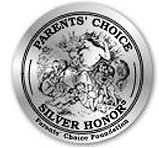 Parents Choice has awarded Ruby Skye P.I. a Silver Honor!
Here is part of their review:
Move over Scooby Doo and Harriet the Spy. Ruby Skye PI is the new girl in town, and she's out to solve mysteries in cyber style. This clever, quirky and slickly produced Canadian digital series is fun to watch and will keep viewers on the edge of the computer chair. Ruby (Madison Cheeatow) has a nose for mysteries and knack for trouble, and she has help from little sis Hailey (Marlee Maslowe) and best friend Griffin (Kevin Gutierrez). Each Ruby episode is about five minutes long, with the site offering 12 webisodes which, like the serial mystery stories of yesteryear, keep kids wanting for more. Parents will be happy to know that the kids are realistic and resourceful and not just a mini-fashion or marketing tool stereotype.
Established in 1978, Parents' Choice Foundation is the oldest nonprofit consumer guide to quality children's media in the United States.  "The Foundation's mission is to provide parents with information to participate wisely in their children's learning outside the classroom…The Foundation's purpose is to search out and recommend products that help kids grow – imaginatively, physically, morally and mentally—fairly priced products that are fun, safe and socially sound."