Awesome Kids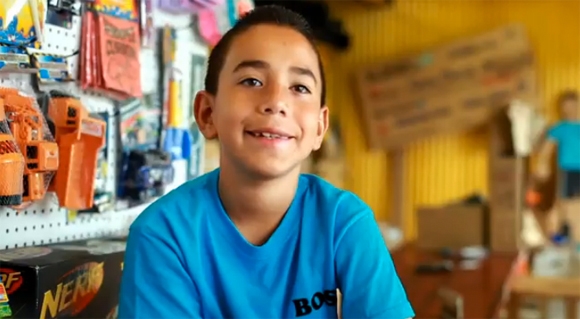 Published on August 13th, 2014 | by Mike
0
Cardboard to College Fund: Caine's Arcade Scores Big
Nine year-old Caine Monroy put together a cardboard arcade in his father's used auto parts store in Los Angeles.
He hand-built games, take-home prize bags, and even his own Staff shirt. He worked with packing tape, cardboard scraps, and used his own toys as prizes.
But he received no customers due to the location.
By chance on the last day of summer, filmmaker Nirvan Mullick was a customer looking for a door handle, but became so inspired by Caine's Arcade that he made a documentary about his efforts. He attracted a surprise flash mob to visit the arcade soon after, boosting attendance to the hundreds, and then thousands from all over the world.
Since the movie's posting in April of 2012, and as of Spring 2014, Nirvan is only $10,000 away from raising a full $250,000 for this inspiring boy's educational scholarship. Some associated funds have been used to start a non-profit to foster creativity entrepreneurship in children like Caine. Those involved have since launched an Annual Global Cardboard Challenge. 
Over 78,000 kids in 43 countries entered the Challenge in its 2nd year. Caine travels the world as a speaker with Nirvan, and both share their story. They have spoken and exhibited at museums, TEDxTeen, and for Google Artist Talk. Caine has been offered a full ride to Colorado State University, as well as a free trip to outer space.
From a small handmade cardboard creation, to a global phenomenon, Caine Monroy is an actively creative person who uses his story to inspire others. Does he inspire you? Check out the full story of Caine's Arcade and the films that started it all at www.cainesarcade.com. Find out how perhaps you can inspire the next wave of your peers!