Ban The Bottle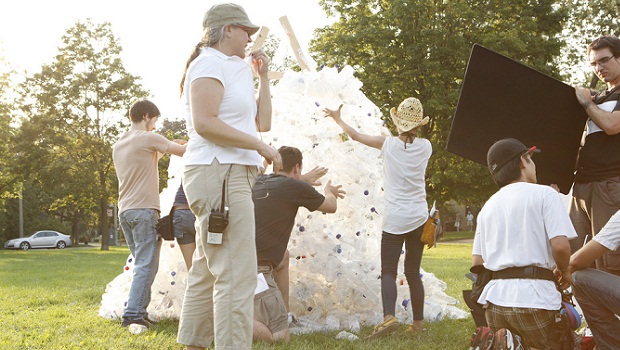 Published on October 15th, 2010 | by rubyskyepi
3
Ban Plastic Water Bottles!
It's Blog Action Day and this year's theme is water.  Ruby Skye P.I. producer Kerry Young guest posts today explaining how we kept the crew hydrated through some of the hottest days of summer without creating a mountain of plastic water bottles!
This is the cry on the petition signed by many of the characters in Ruby Skye P.I. and the reason our set was a plastic water bottle free zone.
Starting at rehearsals and all through the shoot every member of our cast and crew was given a personal stainless steel water bottle and a marker and some tape with which they could make it their own.
Office Coffee Solutions donated a bottled water cooler and several giant bottles of water so that we could keep everyone hydrated and cool during the shoot. We took our water bottles and our cooler everywhere we went, even out into a park during one of the hottest days of the summer.
From Episode 6, scene 34 of Ruby Skye P.I.: The Spam Scam:
HAILEY:
65 million water bottles end up in landfill every year.  Plus all the ones littering our rivers, lakes and forests.
Tap water is safe and delicious and there are all kinds of different and fun styles of reusable water bottles readily available these days. We at Ruby Skye P.I. encourage you to stop using plastic water bottles and help save our rivers, lakes, and forests!