Brownie Recipes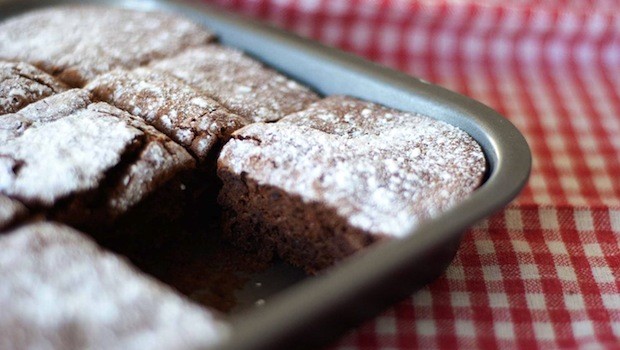 Published on May 13th, 2011 | by Ruby Skye
0
Fluffy Brownies
These brownies are fluffier than most because of their secret ingredient: self-rising flour (also known as self-raising flour).
What is self-rising flour?  Just ordinary flour with baking powder and salt pre-mixed into it.  Baking powder makes baked good rise a little — not as much as yeast, but enough to give them a lighter tester.  Many brownie recipes don't have any baking powder in them, so they come out dense and heavy — which is delicious.  But a fluffier, lighter brownie can by delicious too.  Try these and see.
The recipe for Fluffy Brownies is super quick and easy to make.  So why not whip up a batch this weekend?!
1/2 cup butter, melted
1 cup white sugar
2 eggs
1/2 cup self-rising flour (or 1/2 cup flour with 3/4 teaspoon baking powder and pinch of salt mixed in)
1/3 cup unsweetened cocoa powder
1/4 teaspoon salt
1 teaspoon vanilla extract
Preheat the oven to 350 degrees F.
Grease and flour an 8×8 pan (or line it with parchment paper).
Combine the flour, cocoa and salt in a small bowl and mix well.
Beat the butter and sugar together in a bowl.  Add the eggs one at a time, mixing well after each one.  Stir in the flour mixture and the vanilla.
Spread into the pan and bake for 25-30 minutes.
Let cool before cutting into squares.
Fluffy Brownies … deliciously fluffy and brown, too!