Brownie Recipes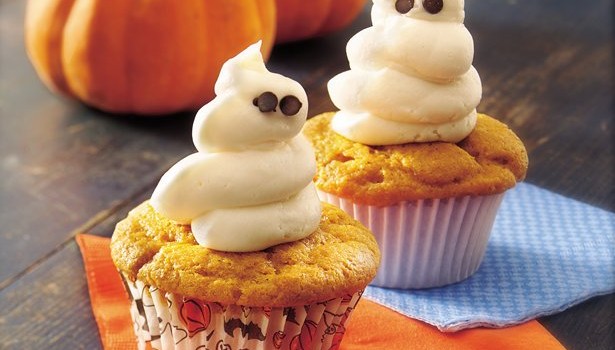 Published on October 23rd, 2013 | by Chloe
0
Kid Friendly Recipe: Ghostly Pumpkin Cupcakes
These ghostly pumpkin cupcakes sound like a delicious mid-week snack!
Do you need a quick snack before the Halloween parties start this weekend? Try this delicious Betty Crocker recipe for pumpkin cupcakes with a ghoulish twist!
Ingredients
3 cups Original Bisquick® mix
1 cup granulated sugar
1 cup packed brown sugar
1/4 cup butter or margarine, softened
2 teaspoons pumpkin pie spice
1/4 cup milk
4 eggs
1 can (15 oz) pumpkin (not pumpkin pie mix)
1 package (3 oz) cream cheese, softened
1/2 cup butter or margarine, softened
2 teaspoons vanilla
4 1/2 cups powdered sugar
2 teaspoons miniature chocolate chips
Baking Instructions
Heat oven to 350°F. Line 24 regular-size muffin cups with paper baking cups.
In large bowl, beat Bisquick mix, granulated sugar, brown sugar, 1/4 cup butter, the pumpkin pie spice, milk, eggs and pumpkin with electric mixer on low speed 30 seconds. Beat on medium speed 3 minutes. Divide batter evenly among muffin cups.
Bake 25 to 30 minutes or until toothpick inserted in center of cupcake comes out clean. Cool 5 minutes; remove from pan to wire rack. Cool completely, about 30 minutes.
Meanwhile, in large bowl, beat cream cheese and 1/2 cup butter on low speed about 30 seconds or until well blended. Beat in vanilla and 2 cups of the powdered sugar on low speed about 30 seconds or just until mixed, then on high speed about 1 minute or until fluffy. Beat in remaining 2 1/2 cups powdered sugar, 1/4 cup at a time, on medium speed. If too soft to mound, add additional powdered sugar, a tablespoon at a time, until desired consistency.
Spoon frosting into large resealable plastic food-storage bag; press out air and seal bag. Cut 1/2-inch tip from lower corner of bag. Squeeze bag to pipe about 2 tablespoons frosting into ghost-shaped mound on each cupcake. Press 2 chocolate chips, flat sides out, into frosting for eyes.
Super delicious? Leave a comment over at Betty Crocker and tell everyone about it.