Brownie Recipes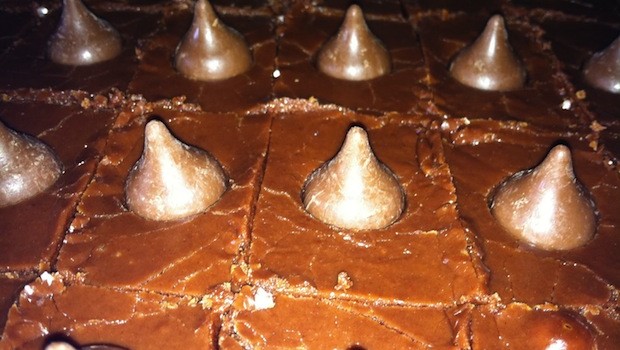 Published on December 31st, 2010 | by Ruby Skye
0
Midnight Brownies
On New Years Eve, even the brownies deserve a kiss at midnight. And Midnight Brownies are iced in chocolate kisses!
Make up a batch of Cocoa-Powder Brownies, Ruby's Basic brownies or another brownie recipe.
While the brownies are baking, unwrap a whole lot of Hershey's Kisses.  We used chocolate and caramel kisses, but chocolate, white chocolate, mint… in fact any flavour of kisses would do.  Unwrap a bagful and don't eat too many!!!
As soon as you take the brownies out of the oven, scatter the kisses all over the top of the hot brownies.
Let the kisses melt for a few minutes.  When the kisses are soft and melty, use a table knife or spatula to smear the melted kiss-iness all over the top of the brownies.
Let cool. Cut.
Eat at midnight.