Brownie Recipes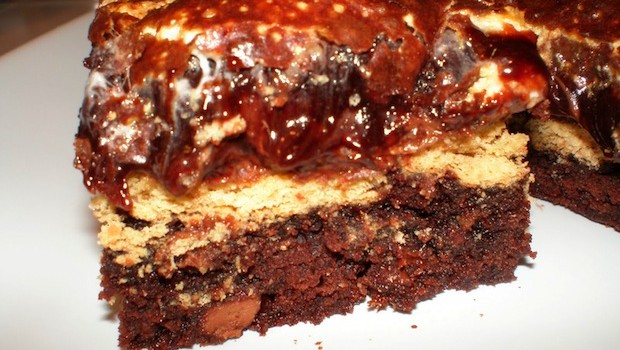 Published on November 5th, 2010 | by Ruby Skye
0
S'mores Brownies
Maybe baking brownies with a file baked inside isn't such a good idea.
But you could bake a whole lot of other, more delicious things into your brownies. Like graham crackers, chocolate and marshmallows to get a brownie with s'mores baked right inside.
I got this recipe for S'Mores Brownies and the pictures from Making Memories.
Ingredients:
Ruby's Basic Brownie Batter

(minus the chocolate chips)
A box of graham crackers
Some chocolate bars (or you could use a bag of chocolate chips)
A bag of large marshmallows
Preheat the over to 350.
Whip up a batch of Ruby's Basic Brownie Batter but leave out the chocolate chips. Pour half the batter into the greased pan. Now add in a layer of graham crackers.
Top that with a layer of chocolate bars.
Top that with a layer of marshmallows.
Pour the rest of the batter on top.
Bake at 350 for 40 minutes. Let the cool completely before you attempt to cut them. Yes, it will be hard to wait, but if you try to cut them when they are warm it will be a big mess (but yummy)
Thanks to Making Memories for the idea and the photos!
Visit the site for other great brownie recipes, like the Triple Layer Brownies!