Brownie Recipes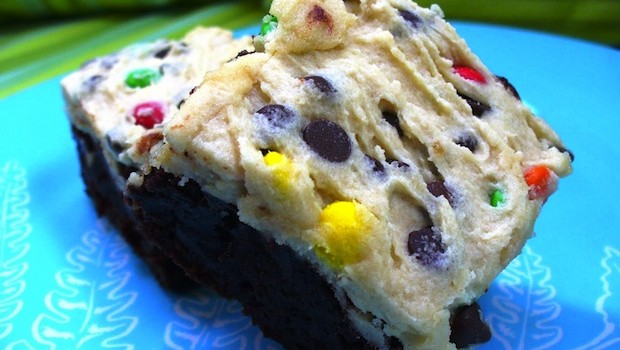 Published on June 24th, 2011 | by Ruby Skye
2
Cookie Dough Brownies Recipe
Hi Ruby Skye P.I. fans!
I'm Kristan from Confessions of a Cookbook Queen and I'm so excited to be sharing a brownies recipe with you today.
I've been catching up on the series and have decided that Ruby and I have a ton in common— 1) We're both extremely awesome 2) We both love to bake brownies and 3) We are both detectives.
Okay, so I get that I'm not exactly a detective, but I'm a mom and I can assure you that it's pretty much the same thing. I'm always trying to solve mysteries like "Who snuck into my gummy worm stash?" or "Who hasn't done their chores?" or my personal favorite "Who put the drink pitcher back in the fridge EMPTY?!"
So as you can see, I am completely and totally qualified to be here today.
This brownies recipe is one of my favorites and so easy to make. I know Ruby would love it and so will you!!
INGREDIENTS
8×8 pan of brownies, baked and cooled (I used Ghirardelli Double Chocolate Brownie Mix but you can use any homemade or boxed recipe you prefer)
1/4 stick salted butter, at room temperature
1/4 cup peanut butter
1/4 cup sugar
1/2 cup brown sugar
3 Tablespoons milk
1 1/2 teaspoons vanilla
1 cup all-purpose flour
Heaping 1/2 cup mini M&Ms
In the bowl of a mixer, beat butter and peanut butter until combined. Add sugars and mix until light and fluffy. Beat in milk and vanilla. Gradually add flour and mix until fully combined. Fold in M&M's. Spoon cookie dough over brownies and spread carefully.
If you make a 9×13 pan of brownies, you may want to double the topping or it won't be as thick.
This is seriously one of the coolest guest posts I've ever been asked to do. Thanks so much for letting me visit and share my recipe with you guys!! Now I'm off to do some baking and detectivey stuff.
Ruby would be so proud.