Blog Published on September 3rd, 2011 | by Julia
0
Last Weekend Reading
With only one weekend left of the summer, you might want to squeeze in a last few books. Or maybe you want to pick up your first novel of the new school year.
It can be tough to decide on a book – the library, the bookstore, even your best friend's bookshelf, seem to be chalk-full of way too many options. A great way to pick a book is by looking for the Newbery Medal on the cover.
Since 1922, the Newbery Medal, has been awarded to authors of outstanding Children's Literature. Past winners which might ring a bell include Neil Gailman for The Graveyard Book and Rebecca Stead for When You Reach Me.
Here are a couple off the 2011 list you might want to get your hands on:
Moon over Manifest by Clare Vanderpool (Medal Winner)
Genre: Historical Fiction, Mystery
When Abilene Tucker is sent to live with an old friend of her fathers, she hopes that living in Manifest, Kansas will teach her more about the boy her father once was. Unfortunately, the Great Depression has turned Manifest drab and lifeless. Soon enough, along with her new friends Lettie and Ruthanne, Abilene is unlocking a secrets hidden deep within the town – and learning how her father was a part of Manifest's history.
Heart of a Samurai by Margi Preus (Honor Book)
Genre: Historical Fiction, Adventure
When a Japanese fishing vessel sinks, the crew swims to an unknown island where they are rescued by an American whaling ship. Since Japan's borders are closed to Western Nations, the ship sets off to America.
Manjiro, a fourteen-year-old boy, is curious and eager to learn everything he can about this new culture. Eventually the captain adopts Manjiro and takes him to his home in New England. The boy lives for some time in New England, and then heads to San Francisco to pan for gold. After many years, he makes it back to Japan, only to be imprisoned as an outsider. With his hard-won knowledge of the West, Manjiro is in a unique position to persuade the shogun to ease open the boundaries around Japan; he may even achieve his unlikely dream of becoming a samurai.
If you're interested in more, check out the Newberry website for a complete list of 2011 Honors. Wikipedia also has a complete list of winners here.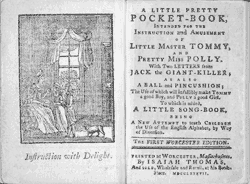 FUN FACT: The Newbery Medal is named after John Newberry, an 18th century publisher of Children's Literature. In 1744, he published A Little Pretty Pocket-Book, intended for the Amusement of Little Master Tommy and Pretty Miss Polly with Two Letters from Jack the Giant Killer (breath!) which is said to be the very first children's book. The book, which consisted of simple rhymes for each letter of the alphabet, would come with a ball or a pincushion, depending on if you were a boy or girl.