Because I Am A Girl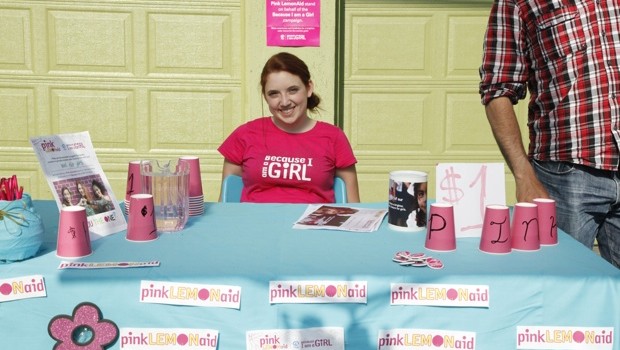 Published on October 2nd, 2012 | by Cindy
0
Helping Girls One Lemonade Stand at a Time
Because I Am A Girl (BIAAG) is famous for its lemonade stands. Selling glasses of this classic drink is an awesome way to raise money for girls around the world.
In fact, BIAAG is famous for pink lemonAID stands. Pink is a girl power colour. It stands for the unity of girls everywhere.  It's Because I Am A Girl's colour and it's Ruby Skye P.I.'s colour too.
If you want to contribute to BIAAG, a lemonade stand is a good way to start.
Here are some ways to make your LemonAID stand a success:
Make your lemonade stand-out:  Add fruit to the glasses to make it prettier. You would be surprised how much attention it can get. Add a slice of lemon, orange or a cherry to the rim of each glass.  Or even drop a some pieces of fruit into the lemonade for decoration. You can also decorate your pitcher too.  In fact, decorate the whole stand!
Sell Other Stuff: You can sell brownies — we have lots of recipes on the site including Ruby's Famous Roasted Marshmallow Brownies.  Cookies, candy and other foods will attract a crowd and bring in the bucks. Ask friends and family if they would like to donate baked goods and other food to your sale.  Remind them what a good cause it is.
Let People Know About Your LemonAid stand: Tell your friends, classmates and anyone else you know. Put up posters in the neighbourhood.  You'll be surprised at how much people want to help. Also, talking about it spreads awareness for BIAAG's cause.
It's A Fundraiser – Make sure everyone knows that you're not just selling lemonade for the fun of it.  Put up Because I Am A Girl flyers and posters.  Let your lemonade drinkers know it's for a good cause.
There are lots more LemonAID stand tips, downloadable posters and more on the Because I Am A Girl website.  Check it out.!
Good-luck!