Brownie Recipes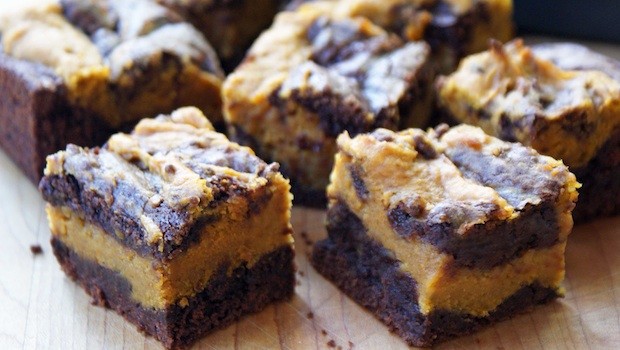 Published on October 28th, 2010 | by Ruby Skye
0
Pumpkin Swirl Brownies
Hogwarts always serves pumpkin desserts. So, in honor of Halloween and the soon-to-be-released Harry Potter movie, Deathly Hallows, here's a recipe for pumpkin swirl brownies to add to your brownie collection.
It's adapted from Martha Stewart Living by Smitten Kitchen.
8 tablespoons (1 stick) unsalted butter, plus more for pan
6 ounces bittersweet chocolate, chopped
2 cups all-purpose flour
1 teaspoon baking powder
1/8 teaspoon cayenne pepper
1/2 teaspoon salt
1 1/2 to 3/4 cups sugar
4 large eggs
1 tablespoon pure vanilla extract
1 1/4 cups solid-pack pumpkin
1/4 cup vegetable oil
1 teaspoon ground cinnamon
1/4 teaspoon ground nutmeg
1/2 cup chopped nuts (optional)
Preheat oven to 350 degrees. Grease a 9-inch square brownie tin. Line it with parchment paper if you've got it.
Melt chocolate and butter.  You can melt it over a pan of simmering water, stirring occasionally until smooth.  Or you can melt it in the microwave (but careful not to burn it in the microwave!).
Whisk flour, baking powder, cayenne, and salt in a large bowl; set aside.
Beat sugar, eggs, and vanilla until fluffy using an electric mixer — 3 to 5 minutes. Add the flour mixture and beat some more. Pour about half of batter (say, two cups) into another bowl and add the melted chocolate and butter.  Mix it up well.  If it's too thick, add a little more batter.  It should be pourable.
Go back to the first bowl of batter.  Add the pumpkin, oil, cinnamon, and nutmeg and stir it all up till blended.
Pour half of chocolate batter into the prepared pan.  Now pour half the pumpkin batter on top of that.  Then add another chocolate layer (finishing the chocolate batter) and then a last pumpkin layer.  Work fast or the batters will get too thick.
Use a table knife or a small spatula to swirl the layers of batter together.  Try to get down to the bottom of the pan and make it pretty.
Put the pan in the pre-heated oven and bake for 40-45 minutes.  Cool and cut into squares.
Re-read The Deathly Hallows while eating your pumpkin swirl brownies or bring to your school Halloween party.