Lemonade Recipes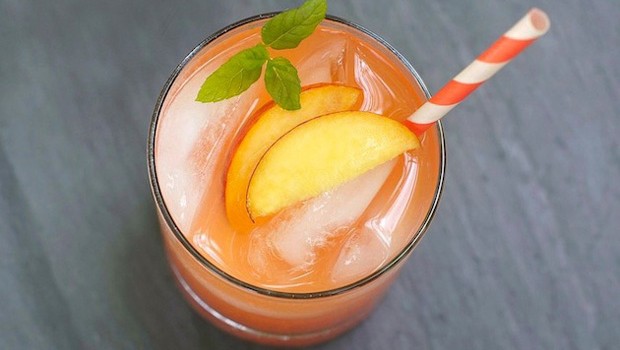 Published on January 24th, 2013 | by Dorice
0
Peach Lemonade
This peach lemonade is absolutely wonderful!
Ingredients
4 cups water
2 cups coarsely chopped peaches
3/4 cup sugar
1 cup fresh lemon juice (from about 6 lemons)
4 cups ice
1 peach for garnish, cut into 8 wedges
Directions
Combine the first 3 ingredients in a medium saucepan over medium-high heat. bring to a boil; reduce heat, + simmer for 3 minutes. place peach mixture in a blender; let stand for 20 minutes.
Remove center piece of blender lid (to allow steam to escape); secure blender lid on blender. place a clean towel over opening in blender lid. blend until smooth. pour into a large bowl. refrigerate for at least 3 hours.
Press peach mixture through a sieve over a bowl, reserving liquid + discarding solids. stir in lemon juice. place 1/2 cup ice in each of 8 glasses. pour about 2/3 cup lemonade into each glass; garnish each glass with a peach wedge.
Recipe courtesy of fearless homemaker