Published on July 8th, 2012 | by JulieG
Rock Paper Scissors Robot Cannot Lose
Check out the video above to see an incredible unbeatable lose Rock Paper Scissors robot!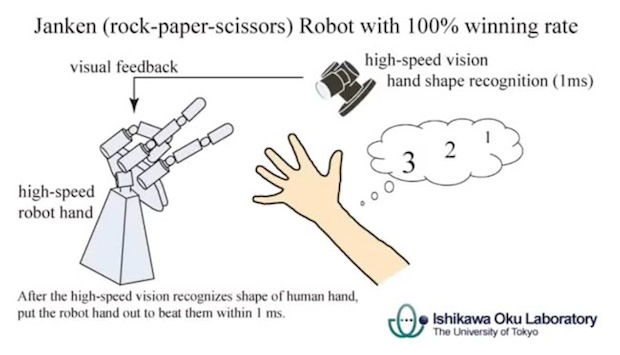 Robot researchers at the Sensor Fusion lab at the Ishikawa-Oku Laboratory in Japan have developed a robot that can beat humans at rock-paper-scissors 100 percent of the time.
The robot uses a high-speed camera to sense the shape and positioning of the human hand and can respond to the throw of rock-paper-scissors, within 1 millisecond, with a move that will beat any human's.
We wonder what Vinnie would say about this rock-paper-scissors robot: cheating? Or not?
Check out some more strategies for rock-paper-scissors from The World RPS society.