Rock Paper Scissors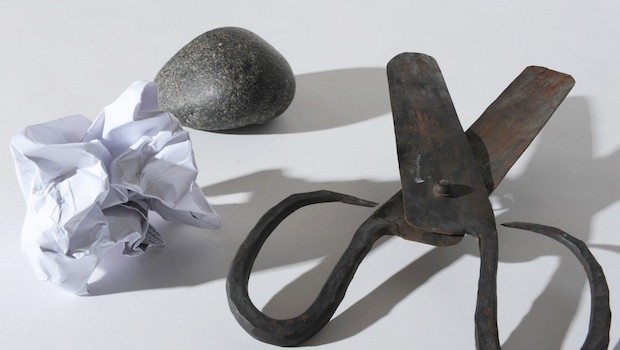 Published on December 13th, 2010 | by Vinnie
0
Zen Rock Paper Scissors
Zen out with these RPS variations from Moon Fish Ocean:
Moon is a fist.
Fish is two fingers spread.
Ocean is a flat hand with fingers together.
Ocean captures the moon's reflection. Fish rule the ocean. And moon's gravitation (otherwise known as the tide) pulls fish.
Or try the Bridge, Stream, Boulder variation version:
Make a bridge by spreading your thumb and pointer finger into an arch.
Stream is a flat(ish) palm.  Your fingers don't need to be together.
Make a boulder by making a fist.
Bridge crosses stream.  Stream flows around boulder. Boulder topples bridge.