Blog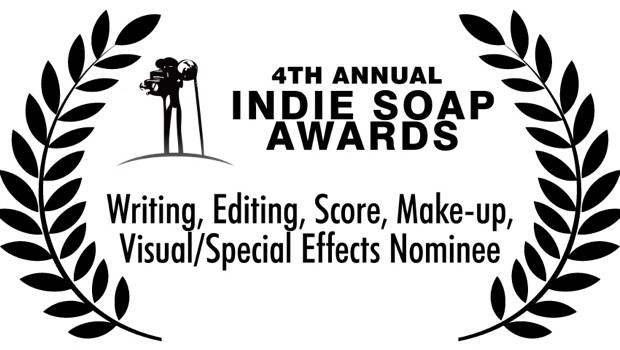 Published on December 19th, 2012 | by Jill
0
Indie Soap Award Nominations x 5
Five nominations for Ruby Skye P.I.: The Haunted Library!
The Haunted Library has been honoured with five nominations from the 4th Annual Indie Soap Awards from We Love Soaps! Two of our five noms are for editor extraordinaire, Mike Reisacher, who got nods in both the Best Editing and Best Visual/Special Effects categories. Yay Mike!
Several other Canadian web series received Indie Soap Award nominations as well. Our pals at Out With Dad took nine — count 'em, nine! — noms! Hitman 101 was no slouch either with seven nominations. Pretty in Geek and Clutch also received nods.
We're excited by our nominations and thrilled for our nominees. But at times like this we always remember what a team effort making Ruby Skye P.I. is. There are tons of us involved and it take hard work from a lot of people to make anyone of shine. And every nomination in any department is really a nomination for our director, Kelly Harms.
BEST EDITING (ALL SHOWS)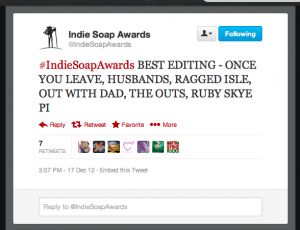 ONCE YOU LEAVE – Nate Locklear
HUSBANDS – Nathaniel Atcheson
RAGGED ISLE – Barry Dodd
OUT WITH DAD – Jason Leaver
THE OUTS – Adam Goldman & Jay Gillespie
RUBY SKYE PI – Mike Reisacher
BEST MAKE-UP (ALL SHOWS)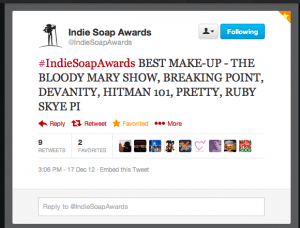 THE BLOODY MARY SHOW – Jamey Leigh-Weber
BREAKING POINT – Tina Soares & Nicole Evans
DEVANITY – Liz Kan
HITMAN 101 – Tzu-Jung Toby Lee
PRETTY – James Freitas & Brenda Oen
RUBY SKYE PI – Jessica Panetta
BEST ORIGINAL SCORE (ALL SHOWS)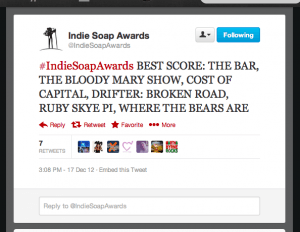 THE BAR – Sam Diaz
THE BLOODY MARY SHOW – Christopher Skipper
COST OF CAPITAL – Rob Gokee
DRIFTER: BROKEN ROAD – Michael Brasier
RUBY SKYE PI – Studiocat, David Wall, Jamie Shields & Adam White
WHERE THE BEARS ARE – David Maddux
BEST VISUAL/SPECIAL EFFECTS (ALL SHOWS)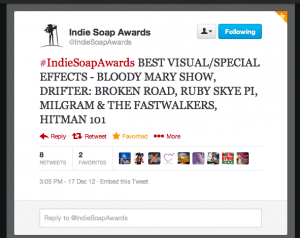 THE BLOODY MARY SHOW – Luke Dyton
RAGGED ISLE – Eric Anderson & Derek Kimball
DRIFTER: BROKEN ROAD – Geoffrey Palmer
RUBY SKYE PI – Mike Reisacher
MILGRAM AND THE FASTWALKERS – Craig Herron
HITMAN 101 – Pranjal Verma
BEST WRITING (COMEDY)
HUSBANDS – Brad Bell & Jane Espenson
WRECKED – Liz Ellis & Gabriel A. Carbajal
I HATE BEING SINGLE – Rob Michael Hugel
PRETTY – Steve Silverman
FUMBLING THRU THE PIECES – Julie A. Smith
RUBY SKYE PI – Julie Strassman-Cohn & Jill Golick
We'll find out the winners at the Indie Soap Awards on February 19st, 2012 at New World Stages in New York City. Good luck to all!