Blog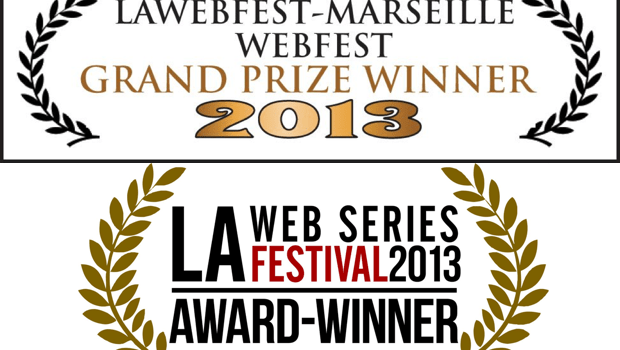 Published on April 4th, 2013 | by Jill
0
LAWebFest Grand Prize
Grand Prize for Ruby Skye P.I.: The Haunted Library
Award-Winning Tween/Teen Web Series Wins Big at LAWebFest
https://rubyskyepi.com/
April 4, 2013 [Toronto, ON] — Ruby Skye P.I., the award-winning web series for tweens and teens, took home a Grand Prize from the LAWebFest this week, along with four Outstanding Achievement Awards. Chosen from more than 400 submissions, the Grand Prize includes an all expenses paid trip to Marseilles, France for the Marseilles WebFest to be held in October 2013.
The Haunted Library – the second season of the Ruby Skye P.I. web series – also won four awards in the Interactive Narrative Drama Category: Outstanding Directing: Kelly Harms; Outstanding Lead Actress: Madison Cheeatow (Ruby Skye); Outstanding Guest Star: Geri Hall (Gifted Sarah) and Outstanding Cinematography: Alex Dacev. Held March 28-31, 2013, the LAWebFest is the world's oldest and largest festival devoted to web series. The Marseilles WebFest, which will be held October 11-12, 2013, is the only web series festival held in Europe and one of four web series festivals held worldwide. Ruby Skye P.I. is produced by Story 2.OH, was created by interactive storyteller Jill Golick and is directed by Kelly Harms. Harms and Golick executive produced the series along with Steven Golick.
Ruby Skye P.I. is one of many Canadian web series to have fared well at the 2013 edition of the festival. Vancouver's The Last Fall of Ashes was also a Grand Prize winner. Other Canadian series celebrated at the event were Clutch, Out With Dad, Pete Winning, Bill & Sons Towing, The Verdict, Guidestones, Prison Dancer, Verdict, The Runner, Model Mayhem and The Casting Room.
"With web series from fifteen countries represented at the festival, it so exciting to see Canadians leading this new industry," says Golick. "The LAWebFest does a tremendous job of bringing recognition to web series creators around the world and we are delighted to be heading to Marseilles this fall!"
Ruby Skye P.I.: The Haunted Library is currently nominated for a WGC Screenwriting Award and for an Alliance for Youth Media Award of Excellence. The series is available on RubySkyePI.com, KoldCast TV, blip, YouTube and DailyMotion. The series has topped over 2 million video views and developed a large and devoted fan base.
Launched in early October 2012, Ruby Skye P.I. The Haunted Library advances the story of intrepid teen detective, Ruby Skye (Madison Cheeatow) and her small, tightly knit group of friends. A natural next step in young adult entertainment, Ruby Skye P.I. takes the girl detective genre into a new realm of problem solving as high-tech tools meet good old-fashioned sleuthing. Along the way, Ruby gets herself into plenty of hot water en route to an action packed resolution.
In addition to the over one hour's worth of original, narrative video content, Ruby Skye P.I.: The Haunted Library includes 50 behind-the-scenes and "extra features" videos, four web sites, four Tumblr blogs, multiple social media channels, and ten interactive clues. Between episodes, viewers can study and solve the clues which Ruby finds in the story. Mystery-loving tweens and teens can also solve puzzles on the companion website ODearyPuzzles.com or explore the "haunted" O'Deary Library to learn more about the characters, the books mentioned in the mystery and to find – or submit – book reviews, author profiles, interviews with YA authors and book cover art work.
____________________________________________________________________________
How a TV-PG Show Became the Edgiest Series Online: Rube Skye P.I.'s Case of the Missing Rulebook | The Sixth Wall, 11.21.12
____________________________________________________________________________
Ruby Skye P.I.: The Haunted Library stars series regulars Madison Cheeatow (Ruby Skye), Marlee Maslove (Hailey Skye) and Elena Gorgevska (Diana Noughton). Season 2 cast includes Scott Beaudin (My Babysitter is a Vampire), Rosemary Dunsmore (Anne of Green Gables, Murdoch Mysteries), Geri Hall (This Hour Has 22 Minutes), Jordan Prentice (Mirror Mirror, In Bruges), Laura de Carteret (My Babysitter's a Vampire), Samanatha Wan (Leslieville) and Shaun Shetty (Call Me Fitz).
Ruby Skye P.I.: The Haunted Library was shot at the Emmanuel College Library (University of Toronto) and at various location in Toronto, Canada.
The series was produced by Story 2.OH with the participation of The Independent Production Fund (IPF) and made possible with the support of The Ontario Media Development Corporation (OMDC). Ruby Skye P.I. Season 1: The Spam Scam has been the recipient of numerous awards, including a Parent's Choice Silver Honor, a Youth Media Alliance Award of Excellence, a 2011 "Rockie", the New York Television Festival's Best Family Pilot and eight Outstanding Achievement Awards from the L.A. Web Fest.
Links:
Website — https://rubyskyepi.com/
Facebook — https://www.facebook.com/RubySkyePI
Twitter — https://twitter.com/rubyskyepi/
Downloads:
Visit https://rubyskyepi.com/about-the-series/press-room/ to download hi-res images, head shots, logos and other materials
Tags:
#rubyskyepi #webseries #transmedia #story2oh #jillgolick #interactive
About:
Story 2.OH is a Toronto-based production company. Stepping beyond the television model, Story2.OH combines video, photos, graphics, blogs and more to create the next generation of screen-based entertainment.
– END –