Blog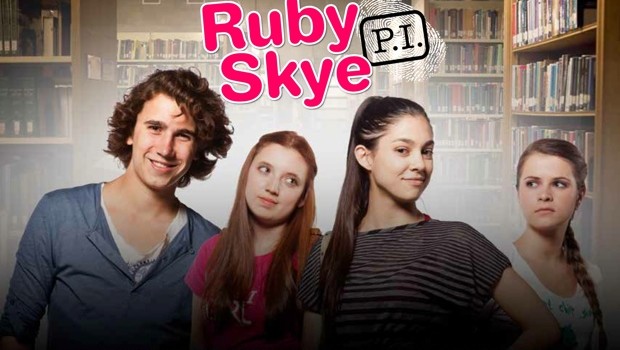 Published on June 10th, 2013 | by Devin
0
Ruby Skye P.I. Enters Multi-Platform Deal with CBC
Award-Winning Digital Series, Ruby Skye P.I. Enters Multi-Platform Deal With CBC for Winter 2014 Broadcast and Digital Premiere
Series Eyes U.S. Expansion
June 9, 2013 – (Toronto, ON – New York, NY) Digital media producer Story2.OH inks an exclusive multi-platform deal with CBC for the broadcast and digital premiere of multi-award-winning teen/tween detective mystery series, RUBY SKYE P.I. for winter 2014. From creator, Jill Golick and her Toronto-based production shingle Story2.OH the new digital series eyes international expansion into the U.S, led by Seiffert Media Advisors, as the show enters production of its' third season this fall.
Fast-paced and funny mystery series RUBY SKYE P.I. follows smart, stubborn, and quick-thinking, teenage detective Ruby Skye (Madison Cheeatow), as she finds her way into the middle of the most baffling mysteries. With reluctant help from tech-savvy sister Hailey (Marlee Maslove), Ruby often lands in hot water before finding herself en route to a magnificent solution.
"CBC is quickly emerging as a front-runner in digital innovation," says Kim Wilson, Creative Head of Children's and Youth Programming. "We're proud to be contributing to innovative new multi-platform initiatives with the incorporation of web-based series Ruby Skye P.I. to Kids' CBC."
The entire series will premiere online at Kids' CBC in winter 2014, followed by broadcasts on CBC-TV. Between episodes, the audience can participate online through a host of activities, allowing viewers to solve the mystery along with trusted sleuth Ruby. The CBC multi-platform deal acts as a catalyst for the series overarching strategy to build RUBY SKYE P.I. into a valuable international cross-platform franchise.
"The sky is the limit for Ruby," says Jill Golick, creator of Ruby Skye P.I. "We are thrilled to be partnering with CBC, and with a robust audience including over 2.5 million views and thousands of fans, Ruby is ready to go international, across multiple digital platforms."
"Ruby Skye represents premium video content at its best," said Alan Seiffert, President of Seiffert Media Advisors. "Teens and parents demand authentic, smart, and fun stories, and they want to access them across all media platforms. Ruby Skye P.I. delivers on all counts, and we are excited about bringing this ground-breaking series to U.S. television and digital screens next year."
Ruby Skye P.I. is produced by Story 2.OH and was created by interactive storyteller, Jill Golick. Janice Dawe, Swing Media, joins the series in Season 3 as an Executive Producer. The series is produced with the participation of The Independent Production Fund (IPF) and made possible with the support of The Ontario Media Development Corporation (OMDC). Ruby Skye P.I. is the recipient of numerous awards, including a Banff "Rockie"; a Parent's Choice Silver Honour; Youth Media Alliance Award of Excellence; Writers Guild of Canada Screenwriting Award; the New York Television Festival's Best Family Pilot and the 2013 LAWebFest's Grand Jury Prize.
Get more Ruby Skye P.I. online at:
Website — https://rubyskyepi.com/
Facebook — http://www.facebook.com/Ruby-Skye-PI
Twitter — http://www.twitter.com/rubyskyepi/
YouTube — http://www.youtube.com/user/RubySkyePI
Trailer: http://youtu.be/noDVG4KE7JY
Downloads:
Visit http://rubyskyepi.ca/about-the-series/press-room/ to download hi-res images, head shots, logos and other materials
About CBC/Radio-Canada
CBC/Radio-Canada is Canada's national public broadcaster and one of its largest cultural institutions. The Corporation is a leader in reaching Canadians on new platforms and delivers a comprehensive range of radio, television, internet, and satellite-based services. Deeply rooted in the regions, CBC/Radio-Canada is the only domestic broadcaster to offer diverse regional and cultural perspectives in English, French and eight Aboriginal languages.
Story 2.OH is a Toronto-based production company that specializes in multiplatform creation. Combining television storytelling techniques with interactivity, video, blogs, social media and more, Story2.OH creates the next generation entertainment.
Swing Media was founded by Toronto-based producer Janice Dawe to work with some of Canada's best creative and media business talent to bring projects to market with a view to commercial success.
Seiffert Media Advisors is a New York-based boutique strategic advisory firm that works with international media companies in television, film, online, video games, and emerging video platforms, offering strategic advice on business structuring, cross-media monetization planning, IP acquisitions/rights management, and deal negotiations for film/TV studios, authors, YouTube channels, and video game developers.
For media inquiries, please contact:
Amy Weinstein, Innovate by Day (Toronto)
amy@innovatebyday.ca
416-360-4060 x 304 (office)
Mirian Arias (US) – Seiffert Media Advisors
ariassmyth@gmail.com
1-917-834-6293 (cell)
Cathleen Saville
Publicist, Entertainment, CBC
cathleen.saville@cbc.ca
416-205-7976 (office) / 416-986-9355 (cell)