Blog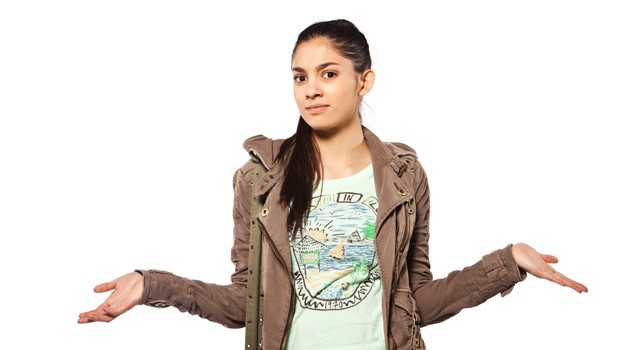 Published on February 14th, 2013 | by Devin
0
Interview With Madison Cheeatow
Madison talks about life on the set of Ruby Skye P.I.
Fiona Marchetto of Press+1 has landed the rare chance of interviewing Ruby Skye herself: Madison Cheeatow!
During the interview, Madison talked a little bit about who she hung around with while she was on the set of the The Haunted Library. "This season I was really close with the make-up artist whose name is Jessica," Madison explains. "We shared a lot of similar interests and she was always willing to talk. She was kind of like a "set mother", she would always get us coffee and treats and stuff. She was really fun to be around."
But that's not all. Being the star, it turns out that Madison got the chance to hang out a little bit with everybody. "But everyone is really great," she continues. "There are a lot of great people in the crew who are great to hang around and talk with, also Marlee (who plays Hailey) and Elena (who plays Diana). I was there everyday and the other actors came on different days so I kind of got to hang out with whoever was there. So I really got to hang out with everybody, which was great!"
Madison went on to explain how most of the time spent shooting The Haunted Library took place at night. That meant a lot of late nights with the cast and crew. "It was really fun this season because we got to do night shoots," says Madison. "Almost every shoot was overnight, so it was really fun to be up in the middle of the night with everyone. It's just really fun to be on set and I love being Ruby because she's such a quirky character!"
She also has some ideas about what makes her show so special. "I think that Jill [Golick, creator] saw that there wasn't a lot of web series for kids and there are a lot of kids who are really interested in the internet and web shows. So that's why I think the show does well."
If you want to hear the rest of what Madison had to say – like what her favorite books are, who her favorite actor is and lots more – head on over to Press+1 and read the full interview!
By now, I'm sure you know all about Fiona. The nine-year-old entertainment journalist has been covering a lot of Ruby Skye P.I. in the past few weeks! She reviewed The Haunted Library. Then, she interviewed Elena Gorgevska to find out what it was like to play a baddie. And just last week, Fiona sat down with Marlee Maslove to talk about balancing school and acting.